The sink is one of the most important parts of your kitchen. This is the place where you wash your vegetables, clean your dishes, and sometimes, a place to bathe your babies. Getting a simple white farmhouse sink can be a good choice as it's big enough to accommodate large kitchen utensils. Turning it into a small bathtub for your baby is possible as well.
The kitchen sink can make or break the aesthetics of your kitchen so you need to know how to choose the best farmhouse sink white. We listed down a few suggestions to help you out and a short buying guide.
Why Choose a White Farmhouse Sink?
Farmhouse or farmer sinks have been around for over 400 years and they made a comeback recently because they fit perfectly well on modern kitchen countertops. This type of sink is characterized by an exposed apron front, which protrudes slightly from your kitchen cabinet.
Before you say no to this type of sink, we listed down a few reasons why it is the best option for you.
This type of sink is often larger and deeper compared with a typical model so it offers more space when washing dishes. They are bigger than most kitchen sinks because there is no front countertop edge. It means that the sink occupies all the space in the front.
When it comes to versatility, a white fireclay farmhouse sink is always at the top. From its size alone, it can accommodate large cooking utensils. If you need something bigger for your indoor or outdoor kitchen, this is a perfect choice.
We've seen the single and double sinks along with the normal and under-mounted models so we already have an idea of how they look. This type of kitchen sink is completely different as it gives off a unique vibe to your kitchen area. It would turn into a major focal point in your kitchen because of its unique design.
The sink is one of the most utilized parts of the kitchen so it should always look good. There are stainless steel models and bright and polished options. You can also check out some of the fireclay models in the market that would give that extra elegance to your kitchen. There are tons of beautiful options for you.
If you spend most of your time in the kitchen, you already know that comfort is one of the things that you would want when you are washing your dishes. Since the front countertop edge is already removed, you can move closer to the sink, allowing you to wash the dishes more comfortably.
Most homebuyers won't really care too much about the kitchen sink unless it is completely different from the typical models in the market. A reversible farmhouse sink is unique so it can affect the resale value of your home. The best thing about this is that it might be the reason why a certain buyer will consider your home.
Top Farmhouse Sinks
Ruvati is definitely one of the best manufacturers of farmhouse sinks and the RVL2300WH model is currently the most popular. This particular model is made from genuine fireclay, which is why a lot of people have been choosing it over the others. It is also handcrafted by skilled artisans from Italy.
What makes fireclay very popular is because of its benefits. The material is actually fired at extremely high temperatures and they are fused together. It will then create an enamel surface that is resistant to cracks, chips, and scratches. If you need durability, then this should be at the top of your list.
One of the best things about the Ruvati RVL2300WH is its reversible design. You can also mount it with either a decorative or a smooth fluted finish. You can opt for a flush mount and an under mount, depending on your preference.
The installation is not too difficult as it comes with a guide to help you out. You can also get a standard drain assembly with a strainer.
Pros:
Genuine fireclay

Reversible design

Extremely durable

Comes with drain assemble and strainer
Con:
2. Kraus KHF203
If you're not a fan of single sinks, then Kraus KHF203 should be your best option. This particular model is a double sink so you can use one to wash the dishes while the other can be used to dry them. It's extremely versatile, which makes it a popular choice for people with large kitchens.
The Kraus KHF203 has a 60/40 double sink with a standard drain for both sides. The drains are positioned near the back of the basin so that the water can easily drain even if there are dishes placed inside the sink. One of the best features of this sink is its satin-steel finish which is rust and corrosion-resistant.
All of the corners are also rounded so the surface is extremely easy to clean. If you consider an under-mount installation, it will create a seamless look for your kitchen. This is a good choice if you prefer a cleaner kitchen countertop.
A few accessories are also included, like dish grids, a three-piece strainer set, drain assembly, and a kitchen towel. It comes with a lifetime warranty as well.
Pros:
Extra basin

Durable construction

Easy to install

Very easy to clean
Con:
The surface scratches easily without the dish grids
3. Comllen Commercial 33 Inch 304 Farmhouse Sink
Looking for an affordable farmhouse sink doesn't have to be too difficult. The Comllen Commercial 33 Inch 304 Farmhouse Sink is currently the best value that you can get from this list. It offers a durable and classy design for modern kitchens without breaking the bank.
This sink is made from stainless steel along with a satin-brushed nickel finish, which is added to resist scratches, stains, and corrosion. Even if you accidentally scratch the surface, the brushed finish can easily mask it.
This sink is a good choice if you have cabinets that are 33 inches and up. It comes with a 3.5-inch drain that fits most garbage disposal systems in households. It comes with a 10-inch deep single bowl that creates the illusion of more space for your kitchen.
The best thing about this sink is that it comes with thick rubber dampening pads and a stone guard undercoating. All these can minimize the noise from accidentally dropping the dishes in the sink. The rounded corners also add to its amazing style and allow you to clean the sink easily.
Pros:
Easy to clean

Simple installation

Durable construction

Soundproof technology
Con:
4. Sarlai 30 Inch Fireclay White Farmhouse Sink
The Sarlai 30-inch white fireclay sink is the most durable item on this list. If you care more about durability than aesthetics and other features, then this is the best item that you should consider.
This farmhouse sink is actually made from special white clay that is fired at 2,200 degrees to provide better strength and durability. This item is made to last for a long time so if you don't want to replace your sink anytime in the future, you might want to install this particular sink.
The non-porous glossy finish makes it resistant to scratching, discoloration, chipping, and heat. This will also make sure that the sink will stay durable and easy to clean for a long time. With a 10-inch deep basin, it can accommodate large kitchen utensils. Like the other sinks on this list, it also comes with a sound-dampening technology to minimize vibration and sound when you accidentally drop dishes on the sink.
When it comes to aesthetics, it has a curved apron front, smooth lines, and curved corners for easier cleaning. It is perfect for almost any type of kitchen countertop that you want.
Pros:
Comes in multiple sizes

Durable construction

Soundproofing technology

Scratch-resistant
Con:
Comes with only one basin
5. Kraus KHF200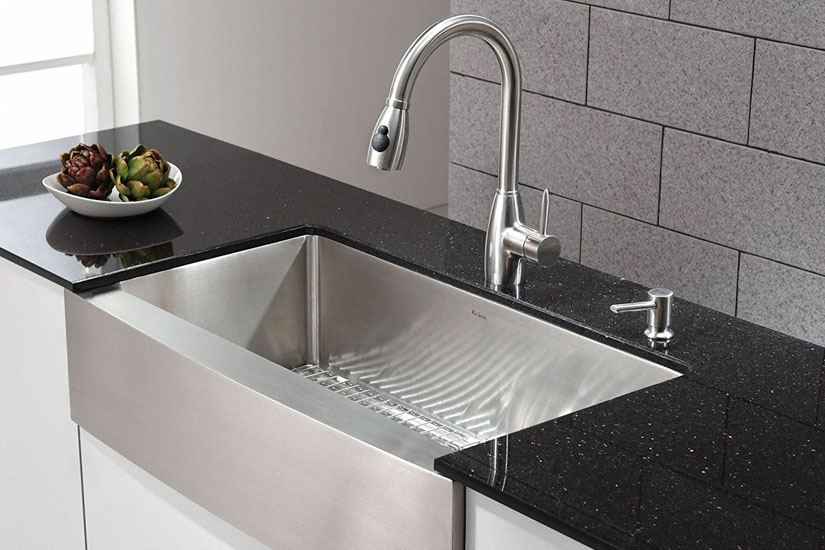 When you're looking for stainless steel sinks, the Kraus KHF200 is always the best option for you. This will allow you to enjoy all the best benefits that a high-end sink can offer for a more affordable price. It is very durable, comes with a limited lifetime warranty, and is dent-resistant.
This sink is made from industrial-grade stainless steel and it is corrosion-resistant as well. The corners are rounded with a satin finish so you can easily wipe the surface and clean it completely. There are channel grooves that would direct the water to the drain even if there are dishes left inside the sink.
What makes it popular is its thick rubber dampening pads that offer soundproofing when you are washing dishes.
Pros:
Durable construction

Affordable

Easy to clean

Elegant
Con:
Conclusion
When you're looking for a white farmhouse sink, all the models mentioned above can provide the aesthetics that you're looking for while providing advanced features to make your life easier. In terms of durability and modern technology, all of the farmhouse sinks above are the best of the best in the market.
If you are looking for top-grade farmhouse sinks for your kitchen countertop, we've got a wide range of options available for you.