One of the hardest decisions in designing your kitchen is picking a kitchen sink. You can find a single bowl kitchen sink and a prep sink, and there's even a sink made for corners. There are so many types that you will surely have a hard time choosing which one would fit your preferences.
As a major part of kitchen renovation, you can find a lot of guides on how to pick the right fireclay kitchen sink. In this article, we will explain the different types of kitchen sinks as well as their benefits and disadvantages.
Different Types of Kitchen Sinks
1. Top-Mount Sink
Let's start with the most common type of kitchen sink that a lot of homeowners are using. The top-mount or drop-in sink is the simplest type that you can install in your kitchen. It goes on top of your kitchen countertop so there are no complicated installations required.
The installer will measure the sink and a hole is cut in the counter material. The sink will then be inserted from above. The weight of the sink is held by the rim, so it is usually caulked to the counter with the help of silicone. This is to prevent water from seeping through the cracks and damaging the bottom part of the kitchen counter.
Benefits:
The installation of a top-mount sink is extremely straightforward. As long as you can cut the counter material and you've made the right measurements, you can install this sink easily. If you have the tools needed to install a sink, you can do this even without prior experience.

The overall cost of this sink is very low. Since it is a very common model, you can find it almost anywhere so you can easily get the best deal out there.

There are only a few problems with a top-mount sink so you won't need the help of professionals unless it is completely destroyed.
Disadvantages:
Since the rim is on top of the kitchen countertop, it's very hard to sweep the water into the sink.

When it comes to cleaning, the rim is another part to clean, making it a bit harder than the other types.
2. Undermount Sink
An undermount sink is the complete opposite of a top-mount sink because instead of being placed at the top of the countertop, the rim is installed under it. The installers use special clips to make sure that the sink will stay in place.
Benefits:
Sweeping the water and crumbs from the countertop to the sink is now possible. Since the rim is hidden, you can just wipe it off and get all the debris straight to the sink.

Undermount sink offers a smoother look so it is more attractive to many homeowners. It provides a cleaner aesthetic because the rim is hidden under the countertop.

Most of the sinks under this category have a higher quality compared to top-mount sinks. It is because they are placed between the top and bottom parts of the counter. They need to be made from high-quality materials.
Disadvantages:
Gunk won't build up on the top of your sink, but it will start accumulating under the counter. The gunk can be found in the place where the sink and the countertop meet.

When it comes to installation, under-mount sinks are more complicated and you'll need a professional to install them. This type of sink is also more expensive than a top-mount model.

By under mounting the sink, you will also make it smaller. If you only bought a small sink, it would look tinier when you install it under the countertop.
3. Kitchen Sink Single Bowl
A single bowl kitchen sink is considered a general type of kitchen hand basin. It means that the specific design only has a single slot or a single bowl.
This type of kitchen sink is very popular in common kitchens. It's pretty straightforward because there is only one bowl and you put all of the dirty dishes inside. This type of sink will not complicate things for you, which is why this is perfect for minimalist houses. You can also say that this particular sink is a perfect choice for people who don't have a family yet. If you only wash a few dishes daily, this would suit you perfectly.
Benefits:
Although you only have a single basin, it is large and deep enough to wash large kitchen utensils.

The design is very simple so it would fit most kitchen themes. It will not overpower the other designs in the kitchen.
Disadvantages:
You need to have a drying area beside the sink because it is only meant for washing dishes. It means that you need to get a separate space where you can place the wet kitchen utensils.

Although this type of kitchen sink is a good choice for simple houses, it's not as popular as the other options. This is because of its simplicity and small size.
4. Double Basin Sink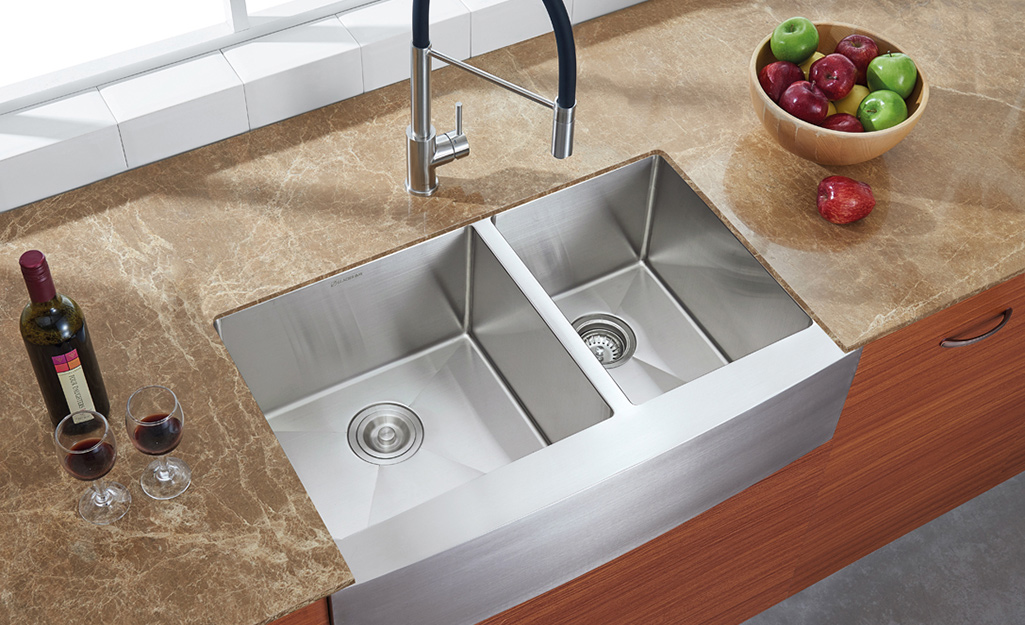 Among the different types of kitchen sinks, the double basin sink is definitely one of the most popular options. Most houses prefer a double basin model because it allows you to wash the kitchen utensils on one side and use the other side for drying. You can also move the faucet from one sink to another and switch their uses.
Aside from its main usage, the overall aesthetic that a double basin sink can offer is out of this world. It can turn a simple kitchen into an extravagant space and it will not overpower all the other elements in your kitchen.
Benefits:
A double basin sink is multi-purpose. You don't need to buy a dish drainer since you can use one of the bowls for this. The best thing about this is that you can use both of the basins when washing dishes. This is perfect if you have a lot of kitchen utensils to wash.

This is a good choice if you are not a fan of dishwashers. Well, dishwashers can make your life a bit easier, but there are kitchen utensils that are made to be washed manually. If you prefer to do the washing by hand, then getting a double basin sink will benefit you greatly.
Disadvantages:
Since the basin is divided into two, there is a chance that one or both of the sinks are too small for large pots.

A double sink might not be favorable for homeowners with a small kitchen. The length of this sink is longer compared to others and it might take up considerable space in your kitchen.
5. Farmhouse Kitchen Sink
Among the different types of sinks, the fireclay farmhouse kitchen sink is the most uncommon. Although it is a popular choice, if you want a unique type of sink, it's not always the first choice of most homeowners.
Commonly known as apron sinks, this is a large single basin sink that can be distinguished through its front wall. It forms the front of the sink and also the front of the counter. It is often integrated directly into the counters and they are level with each other. Today, they are being installed using the "country-style" as they are placed on top of a cabinet or on a freestanding table.
Benefits:
Compared with a single basin sink, an apron sink is considerably larger. It only has a single sink as well, but it is usually bigger and deeper than a typical single basin, making it a great choice when you are always washing large pots.

Since the sink is also at the edge of the counter, it can relieve some pressure from the person who is washing the dishes. They can move in closer to the sink without being hindered by the countertop.

The farmhouse look is definitely unique, so if you want something out of the norm, a farmhouse kitchen sink will surely be a good option.
Disadvantages:
One of the things that you won't like about the apron sink is the dripping. There are times when water splashes out of the sink and drips to the floor. The barrier is very narrow between the floor and the sink, so this is a normal occurrence.

This type of sink is more expensive compared to other styles. This is because the sink itself is bigger and they are often made from top-quality materials.
6. Drainboard Sink
As the name implies, this type of sink comes with a drainboard. There is a basin on one side while the other side has a counter-level drainboard.
Benefits:
This type of sink is perfect for galley kitchens. If you have a lot of kitchen utensils and pots to wash, this is an amazing pick.

The drainboard has a lip around it so the water goes back to the sink when you are draining kitchen utensils.
Disadvantages:
If you have a dishwasher, you won't really need the drainboard, so it's not a great choice.

The basin is usually smaller than the drainboard so it will not be a good choice if you have a lot of kitchen utensils to wash.
Final Thoughts
Take your time and review all the different types of kitchen sinks before you choose. Remember that you should only pick a sink based on your needs. Whether it's a single bowl kitchen sink, a double basin, or a farmhouse sink, make sure that you always focus on its main function.
If you are looking for amazing kitchen sinks, we have the best items that you will surely love.