There's no doubt that a kitchen sink serves an important purpose. Kitchen sinks are a vital part of any kitchen. They are responsible for cleaning up, washing dishes, washing produce, and more. They also can add a stylish element to the space. There are many different materials you can purchase for a kitchen sink. This includes granite, stainless steel, and fireclay. This article is for you if you're considering a fireclay farmhouse sink.
We will discuss the good, the bad, and the ugly of fireclay sinks. If you're looking to purchase a fireclay sink, you must know its pros and cons. 
Fireclay Farmhouse Sink Review 
Like everything, fireclay sinks have benefits and downfalls. We will outline all of these. This will help you determine if this is the right type of sink for your home. 
What Is a Fireclay Farmhouse Sink?
Are you wondering what the elusive sinks are? Fireclay is a specific type of ceramic. These sinks are molded at intense heat. Fireclay sinks are known for not having a lip that covers the counter. Instead, fireclay sinks are smoothly inset into the cupboards. This is a revolutionary process that lasts over a few days. 
After the molding process is completed, an enamel is added. The enamel is dried in a kiln. Fireclay sinks look similar to cast iron sinks; however, there is a difference between them. Fireclay accents any rustic-designed kitchen. 
The Good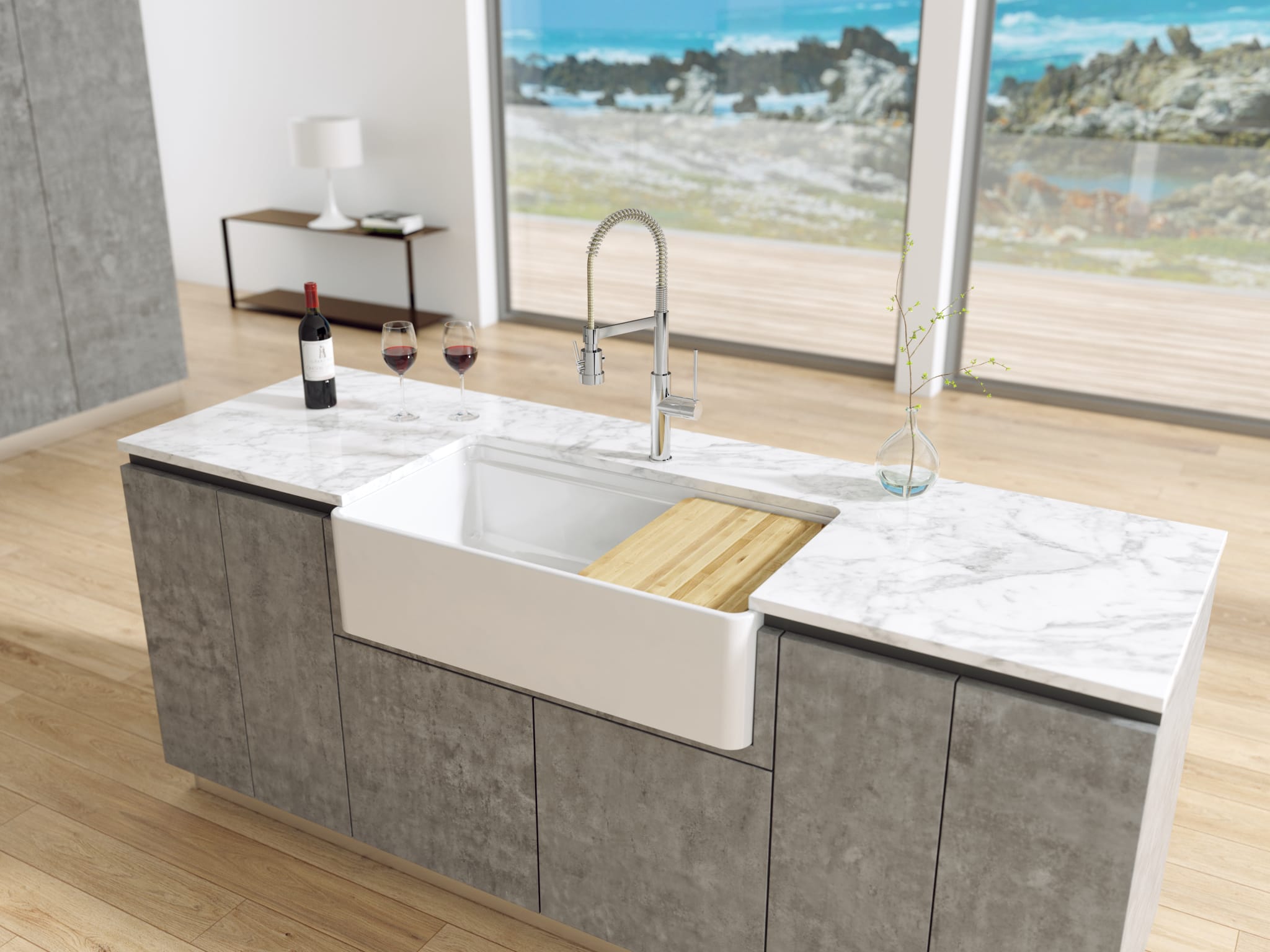 These sinks are an excellent option for many people. Because of that, we will start with the benefits of fireclay sinks. We have outlined seven benefits worth discussing. 
Many homeowners find garbage disposals helpful. Garbage disposals help grind up food and dispose of it. It cuts down on your overall garbage collection. It also limits odors in your kitchen. Because of this, garbage disposals are essential for many homeowners. 
Fireclay sinks can still work with garbage disposals. During shopping, specify that you have this requirement. You'll need to purchase a sink that has this option included. However, some sinks don't function as well with garbage disposals. Luckily, fireclay still does.
One unique characteristic of fireclay sinks is that most are made with a reversible design. This allows the homeowner to have a customized look depending on their preferences. To achieve this, all four sides have been completed. You can choose whether you want to display the smooth or fluted side. Depending on your style, smooth or fluted may look better. 
You can also often find squared or rounded corners. This also can alter the final look. Choose between sleek and chic or edgy. The ability to choose your final product makes fireclay sinks a big hit. 
Many homeowners report that fireclay sinks are relatively sleek. They are not bulky or overwhelming. This can make a big difference in the function and appearance of your kitchen. The most common sizes of fireclay sinks are 24 and 37 inches. However, many find that a 33 inch farmhouse sink is the perfect size. 
It can be challenging to find a fireclay sink larger than 40 inches. If you require a huge sink, you may want to consider different options. 
There is something special about handcrafted products. Fireclay sinks fall into this category. Fireclay sinks do undergo a busy production process. However, they still require handcrafting. This creates a unique appearance. For a custom touch, opt for a fireclay sink. 
Kitchen sinks are high-traffic areas. They are frequently used with heavy cleaners, clanging dishes, and wear-and-tear. Thankfully, fireclay can withstand this. Fireclay is famous for being very thick. This means that it doesn't ding or dent very easily. This is important when washing heavy dishes that can cause damage. 
When you invest in a kitchen sink, you want to know that it'll last for years. A fireclay sink can last a long time without damage. This can be very helpful for you and your pocketbook. 
When you're living a busy lifestyle, maintenance can be a pain. Thankfully, fireclay sinks don't require much maintenance. Fireclay is non-porous. This is different than a porous granite sink, which can soak up many stains and requires sealant. Fireclay requires a simple wipe for cleaning. We recommend not using anything too abrasive on its surface. This includes avoiding steel wool. Use mild cleaners to clean your sink. 
Between scorching hot water and warm pots and pans, you want a sink that can handle it. Fireclay is made from both minerals and ceramic. This means that it has a natural resistance to heat. This will limit your worry about damaging the sink with household items. 
The Bad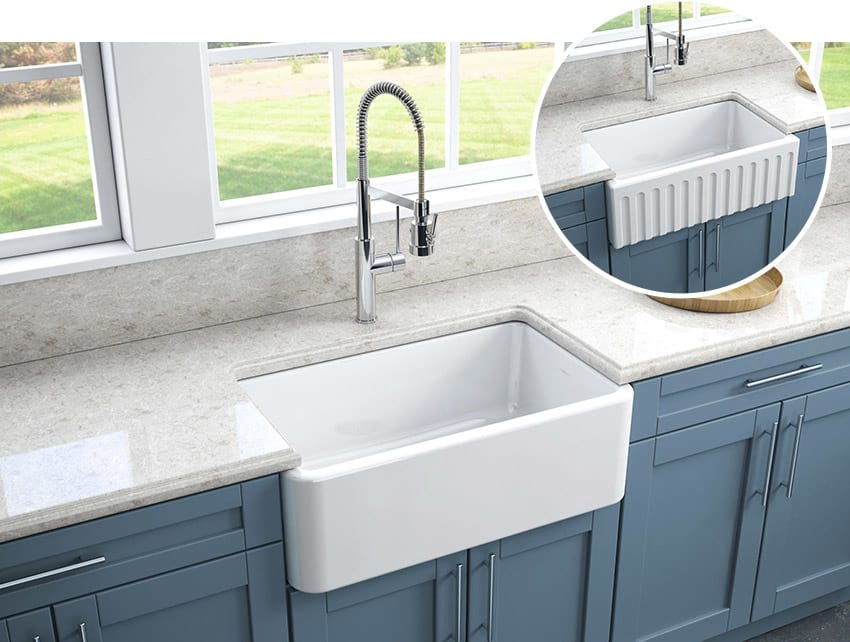 Now that we have discussed the benefits of fireclay, it's time to discuss the downfalls. No product is perfect. Fireclay is no different. We have outlined seven cons to purchasing a fireclay sink. 
Splurging on a kitchen sink isn't always feasible. Fireclay sinks have several different steps of production. Furthermore, it takes several days until completion. More time and labor is required for the final product. This all adds to the final price tag. Pricing can cost anywhere between $300 and $1,000. This can be much steeper than a stainless steel sink. 
Despite this, there is value in splurging. If you have the budget and can see the value, this price tag won't bother you too much. After all, you get what you pay for. 
Fireclay sinks are heavy! Not all kitchen countertops and cupboards are designed to withstand the weight. To successfully install, you'll need to reinforce your cabinets. This will help the unit withstand the weight of the sink. 
Because of the extra weight and extra steps, it's best to opt for a professional installation. This will add to the amount you're spending. However, it will ensure that the sink is adequately supported. These minor considerations will add to the lifespan of your kitchen. 
There are limited colors and sizes available for fireclay sinks. Most fireclay sinks are available with a double basin and a rectangular sink. If you want to choose between several different styles, you may opt for a granite sink instead. If you require other specifications, they may not be available.
Color choices are also limited. White and off-white are most common. This is due to the type of clay that is used. Sometimes you can find a sink that is finished in blue or black. A white fireclay farmhouse sink is the easiest color to find. 
Though fireclay sinks are durable, they can chip over time. The enamel coating can become damaged with heavy dishes. This can also lead to minimizing the integrity of the product. Leaking can result. We do recommend being mindful of its use and repairing it when necessary. These steps will ensure that lifespan will be maintained. 
Stainless steel sinks do not chip. However, they can dent and scratch. It is essential to consider what damage would be a nuisance to your family. 
Any sort of hard surface sink can be difficult on your dishes. If you drop a fragile glass on the hard fireclay surface, it can result in breakage. This can be not very pleasant. After all, dishes and glasses are not cheap. 
Fireclay sinks are known to boast more depth than stainless steel. This is also thanks to the deepness of a fireclay sink. This causes more area for dishes and glasses to cover. To avoid breaking dishes, place them softly in the sink. This can easily be avoided if you are mindful of it. 
Many people find the deep sink a positive. However, it may mean that you have to bend and reach more than other sink options. When cleaning dishes and produce, you'll have to get to the bottom of the sink. It's important to consider if this would be comfortable for you. However, on the other hand, the deep sink will hold more than other options on the market. 
Fireclay is not immune to stains, especially if you leave water in it for a long time. This can make the sink look dated or used. To clean, use a mildly abrasive cleaner. This can help the staining to loosen. However, it can begin to wear on the sink over time. 
To avoid staining, complete maintenance and cleaning occasionally. This will help prolong the look and life of your fireclay sink. 
Conclusion 
If you're considering purchasing a fireclay farmhouse sink, hopefully, this article has been helpful. These sinks have several benefits, such as durability, size, and easy maintenance. However, we also recommend considering the downfalls. These include price, staining, and deep design. If you are looking for a great sink to add to your kitchen, fireclay is a good option. To ensure its lifespan, do the required maintenance and cleaning. These small activities will keep your fireclay sink looking new. Investing in a fireclay sink can completely transform the appearance of your kitchen.