So, you want to replace your kitchen sink. Deciding on a kitchen sink can be a difficult task. There are many different materials, styles, and colors to choose from. Luckily, a modern kitchen sink can refresh your entire kitchen. By replacing your sink, you can give the whole room a facelift. 
Upgrade Your Kitchen Sink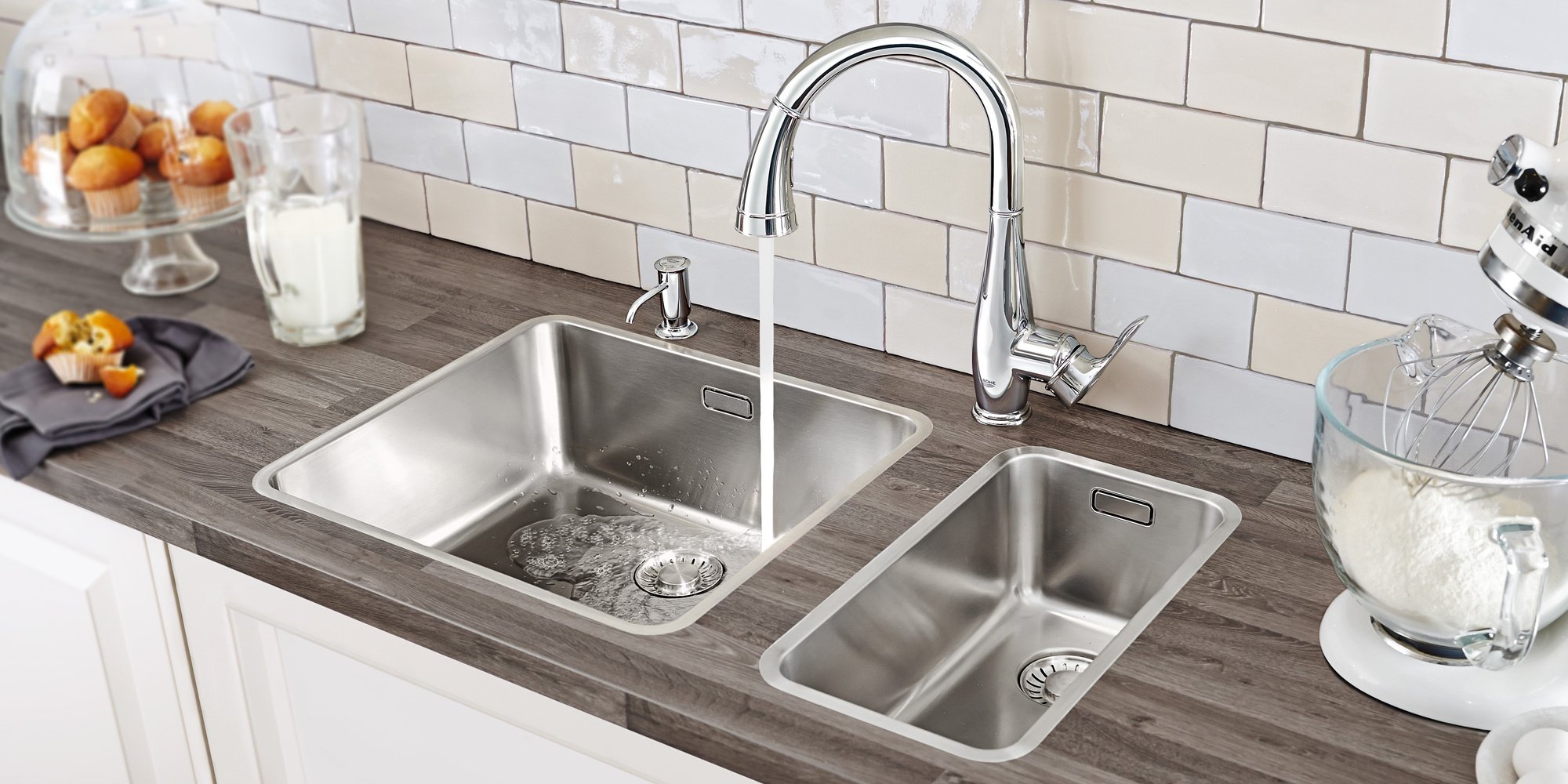 There are several kitchen sinks that we would suggest that you consider. First, we'll outline when you should replace your sink. Then, we'll discuss the different materials on the market. Once you determine the best material for you, then shopping will be easier. 
For some of our favorite kitchen sinks, read the rest of this article! 
When to Replace
Kitchen sinks often last many years. Your money is often well spent with a sink. However, there are some reasons you may consider replacing it. Three of the top reasons are:
Worn down. The sink will likely look worn before it requires replacement. Stainless steel can begin to get scratches that make it look aged. Other sinks may lose their shine and begin to look drab in your kitchen. Replacing it with a new sink will bring the shine and interest back to your room. To avoid your sink looking worn down quickly, follow the maintenance instructions for the type of material. 

Outdated. The kitchen is the heart of the home. It's no doubt that you'll want to stay up-to-date with trends. Just like everything else, kitchen sink trends change. What might have looked good a decade ago may not look good now. Materials and styles change over time. Minor adjustments, such as a new kitchen sink, can make a huge difference. To keep up with trends, you may want a new kitchen sink. Consider upgrading to a single bowl kitchen sink or a modern farmhouse kitchen sink. This will help transform your kitchen.

Needs repair. You may notice that the drain starts to become detached from the sink or isn't working as well as it used to. Food may get stuck in the drain, or irreparable dents may be. This can all be quite a nuisance. When your sink needs frequent repairs, it may be time for a replacement. If you spend a lot to fix it, buying a new one may be a better option. After all, sinks are a relatively affordable investment. 

Want a new configuration. The configuration of kitchen sinks has changed over the years. Determine whether you want a single bowl, double bowl, or triple bowl sink. Depending on your kitchen activities, you may find one works better than the other. 
The Best Materials 
Like most things, kitchen sinks come in different materials. Each material has its own benefits and fallbacks. Maintenance might vary between materials. We'll list some popular options below. 
Stainless steel is one of the most popular sink types. It is relatively neutral and will complement any kitchen of colors. It works well with granite, stone, or laminate countertops. Stainless steel sinks are often under-mounted or dropped in. 
Stainless steel is popular because it is very affordable. Furthermore, they require little maintenance. These sinks are easy to clean and relatively hygienic. They are stain and heat-resistant, meaning that they will last years. One of the biggest fallbacks to these sinks is that they are noisy. Thinner stainless steel can be loud as you wash dishes. They will also show water spots, which can be annoying. 
Enamel sinks are made of cast iron with a glaze over the top. Because of their manufacturing process, they are available in several colors. Enamel is more expensive than stainless steel but looks more elevated. They have a long lifespan and beautifully complement contemporary kitchens. 
The biggest downfall to enamel is that they require more maintenance than other materials. Over time, they can stain and chip. To avoid this, be careful with the cleaners and sponges you use. Enamel sinks are also heavy. To install, you'll have to reinforce the cabinetry. 
Copper is the way to splurge on a beautiful sink if you want to splurge on a beautiful sink. Copper sinks are costly. However, they look gorgeous in any kitchen. Copper sinks especially complement farmhouse-style kitchens. Known for its beautiful bronze shade, copper has many benefits. Not only does it look great, but it has antimicrobial properties. It naturally kills bacteria. This is handy for a kitchen sink, which harbors a lot of germs. 
If you opt for a copper sink, lean toward pricier options. Lower gauges, or thicker sinks, will be more durable. Thin sinks can easily be damaged by heavy pots and pans. 
Two of the most common stone sinks are granite and marble. The majority of stone sinks are relatively expensive. You can expect to pay significantly more than a stainless steel sink. However, there are many benefits. Stone sinks are heat-resistant. They are incredibly durable. This means that they will be long-lasting.
Unfortunately, natural stone is porous. To maintain the lifespan, you'll have to commit to sealing them. Without sealant, stone can become damaged over time. Another downfall to stone is that it is heavy. Like enamel, you'll need to reinforce the cabinetry. 
Fireclay isn't as popular as other sink options. Fireclay is made from enamel and white clay. High temperatures are used, and the sink is sealed with a glaze. Fireclay will look similar to enamel sinks. However, they are more durable and won't stain or scratch as easily. These durable sinks have grown in popularity over the past few years. 
Like enamel, fireclay is heavy. You'll need to reinforce cabinets. Furthermore, you'll want to have a professional install. This type of sink can vary in price but is quite expensive. 
Get the best of both worlds with a composite sink. Composite looks similar to stone but is more affordable. Acrylic resins and quartz are blended together to make a composite. Furthermore, no sealing is required to keep these sinks in good shape. 
Composite isn't completely heat-resistant. To avoid damage, let hot pans cool before placing them in the sink. 
Top Sink Recommendations  
Now that you know the different materials, we will discuss some of our favorite sinks on the market. Each sink has its own benefits. Some of these sinks come with accessories. Shop different colors, styles, and materials to find the best sink for you. 
The black finish of this sink is beautiful! This is the perfect option if you want your sink to make a statement. This sink by Bocchi Arona is made in Italy and features one large bowl. The granite is antibacterial and stain-resistant. This sink will be safe in high heat.
Get an intricate fireclay sink with this option by Nantucket Sinks. The apron features a beautiful vine design that will draw attention. This fireclay sink doesn't allow for bacteria growth, which keeps it very hygienic. This single bowl sink is made in Italy. 
This fireclay sink is perfect for any modern kitchen. This sink by Crestwood is simple and beautiful. With two equal-sized bowls, this sink is exceptionally durable. It is both chip and stain-resistant so that you can use it without concern of damage.  
We love this gorgeous and unique kitchen sink. The Pietra Sarda finish is one of a kind. This sink can be used with a fluted apron front as it is made to mimic Sardinian stone. Enjoy the hygienic properties of fireclay with this incredible 33" speckled sink. 
This sink by Nantucket Sinks is incredibly edgy and sleek. It features a built-in ledge and comes with a stainless steel roll-up mat, disposal flange, basket strainer drain, and cutting board. These accessories will make meal prep and cooking much easier. Choose between two apron corner designs for a personalized look. The black sink features metallic flecks that enhance the appearance. 
This gorgeous fireclay sink comes with a removable protective bottom grid and strainer to make your meal prep easier. If you have a garbage disposal, this sink can accommodate that. This option by Bocchi Sotto is long-lasting, as it is resistant to chips, discoloration, cracking, and scratching. Made in Turkey with a center drain placement, this undermount sink is a perfect addition to any kitchen. 
Conclusion 
Consider getting a modern kitchen sink if you want to elevate your kitchen. With many different options on the market, you can get a sink within your budget. Consider the pros and cons of the different materials before shopping. Once you determine the material that works best for you, you can shop for different styles, brands, and colors. Kitchen sinks are often long-lasting, and you can feel good about your investment.