A farmhouse sink has an exposed front side, and it's deeper than standard models. It's a stylish piece that can add to any kitchen décor. According to experts, this style originates from the 17th century. There was no running water, so having a large sink capability was imperative.
Today, these models are primarily an aesthetic addition. Depending on your preference, you might find them the most convenient of all styles. But what's the best farmhouse kitchen sink on the market? This guide reviews top-rated models to simplify your selection!
What Are the Best Farmhouse Kitchen Sinks?
If you believe this style is the perfect fit for your interior, here are some questions to ask when choosing the desired unit:
Do you need one or two bowls? A single-basin style is more common. It features one big sink that can hold large dishes. Some find it more convenient to have two bowls. That way, you can use one for washing and the other for drying. It's also possible to separate dishes by category.

Would you like an under or above mount sink? The former goes below the countertop. The installation is more difficult, but it might deliver a more seamless look. You get a simpler setup and more choices available if you choose the above mount basins.

What size is the right fit for your kitchen? You can put a large unit in a compact area if that's your preference. It all depends on your desired basin size.

Pick between different finishes and designs. The selection includes copper, stainless steel, fireclay, etc. It depends on your décor and personal taste.

Price and budget. Farmhouse sinks cost anywhere from $300 to $1.5K or more. Decide on how much you want to spend and pick from the available brands accordingly.
If you need suggestions, check out the following models! 
Bocchi used fireclay to design this unit. The material is recyclable and organic, making it an eco-friendly solution. The manufacturer used temperatures up to 2000°F to deliver this sink. You'll find the compound extremely durable. That means you can put hot pans and pots in the basin without worrying about damaging anything.
The bow's surface is resistant to stains, scratches, and corrosion. Bocchi added a special coating to the fireclay base to ensure this. Contempo farmhouse kitchen sink is 19 inches long and 30 inches wide. The rectangle design is modern and fits contemporary decors well. Be careful with the installation since the unit weighs 110 pounds. You will need to cut the countertop to place the basin. However, the manufacturer recommends waiting for the product to arrive. That way, you can ensure the installation measurements are perfect.
Bocchi Contempo is a single-basin sink. It comes with a wooden cutting board, roller mat, and a chrome strainer. You also get a protective bottom grid. It features a stainless steel design that cushions the blow if you drop dishes into the sink accidentally. The offset center drain placement is convenient. The basin is compatible with garbage disposals and doesn't require a flange extension. You receive a limited lifetime guarantee with the product.
Alfi designed an eco-friendly sink with bamboo as the primary material. The construction is robust, and the manufacturer indicates this compound is stronger than steel. You can expect maximum durability from this sink. The creator took care of every aspect, including adding thick sidewalls. The basin is non-porous and waterproof, so the unit should last for years.
Bamboo is suitable for modern and traditional decors. It will fit a contemporary kitchen but also rustic countryside decors. The only thing to note is that this is natural wood. Therefore, not all sinks will feature the same shades. The colors might vary throughout the sink, ranging from light to dark tones.
The double-bowl design is convenient if you appreciate two basins. You can use one for the dishes and the other for washing hands. Two parts are of identical sizes, and there's a board dividing them. This kitchen farmhouse sink isn't difficult to maintain. However, it requires more hassle than fireclay models. After using it, you should wipe the basin and apply a wood sealer yearly to maintain optimal performance. 
Overall, Alfi Brand Double Bowl Bamboo Farmhouse Sink is beautiful. It's eco-friendly and dazzling. The maintenance requirements make it unsuitable for high-traffic kitchens. It's perfect for your countryside house where you don't spend much time. As a bonus, it's an environmentally responsible solution that shows you care about the planet.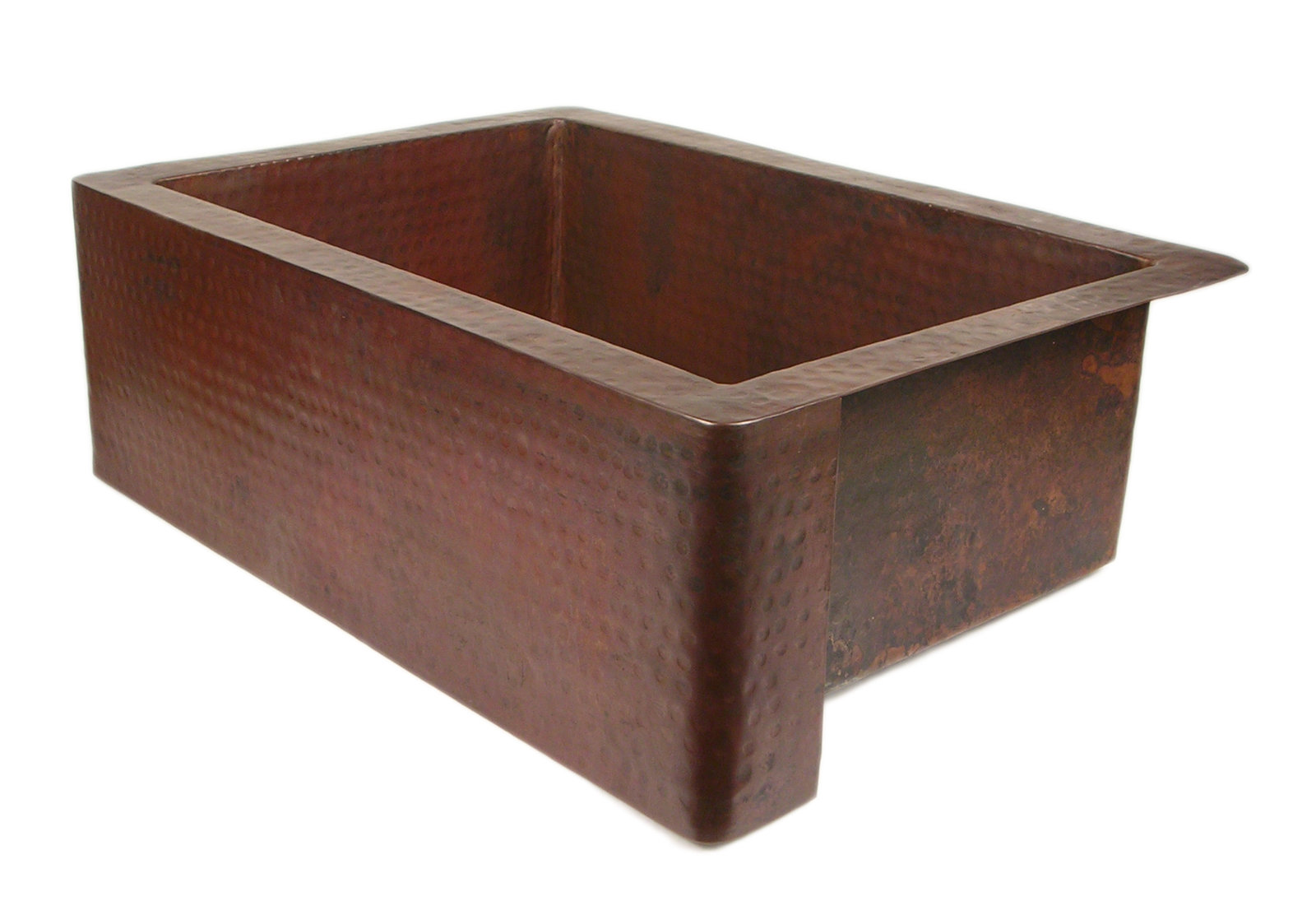 Copper is an incredibly durable material that maintains its integrity and beauty over time. It has natural capabilities to kill bacteria that will minimize the risk of any odors coming from the sink.
D'Vontz went with a classic design for this unit. The manufacturer used 14-gauge copper to form a dark smoke patina. They hand-hammered it into this 30 inch kitchen sink that delivers a warm and attractive look.
The product has only one bowl, but it's large. Its overall measurements are 30x22x10 inches. That's big enough for all your soaking and dishwashing needs. It's also conveniently deep to minimize splashing. The drain size is standard (3.5"), so installing this product shouldn't be a problem.
D'Vontz added flat edges to the sink. Thanks to that, you can choose the installation type. You can put the basin under or above the countertop. The price is a bit higher due to the premium materials. However, copper ensures this sink will be a long-term investment that can last for decades.
If you are a fan of stainless steel basins, this unit will exceed your expectations. Polaris made sure to use premium materials. The steel they picked is 16-gauge, and it's 25% thicker than the standard. The manufacturer indicates the model has a single-piece construction. It ensures the highest durability and sturdiness.
The first thing you notice is the double-bowl design. However, the basins are of different sizes. One is spacious, and the other is narrow. You can pick sides for each, but the interesting thing is they come in different depths. The bigger bowl is 10 inches in height to make soaking possible and minimize splashing. The total length is 32.75 inches, giving you enough space for all your dishwashing requirements.
Scratch resistance is at a high level because of the brushed finish. Polaris added a sound-dampening pad. It reduces the noise if you drop anything into the sink. The installation is simple, and the basin is reasonably light. It weighs only 36.5 pounds. The manufacturer includes a limited lifetime warranty.
Compact kitchens don't have much room to accommodate basins. Perhaps you don't need a large sink, but one that covers only basic needs. That's where Bocchi Classico comes into play. Its convenient design delivers a 20-inch wide bowl. It's close to featuring a square shape, but its length is 2 inches shorter.
Although it's small, this single bowl farmhouse sink features premium quality material. Bocchi is famous for its fireclay units with impressive strength and durability. The manufacturer used high-temperature kilns to come up with the construction. The material is organic and natural, making it an eco-friendly choice.
Your sink will look as good as new for years because of unmatched stain resistance. The finish on all four sides is resistant to cracking, scratching, and discoloration. In addition, you'll receive a strainer and a protective bottom grid with the unit. It ensures there's minimal damage risk if you drop anything in the sink by accident. And premium fireclay quality can handle hot pans and pots, so you can put them in the basin to cool down.
You spend plenty of time in the kitchen and need a large basin. Perhaps you are fond of oversized sinks and like how they spice up the décor. Latoscana delivers a model whose total width is 36 inches. That's more than the usual average, but the manufacturer split the area. You'll notice a bigger 20" basin and a smaller 13" one.
Latoscana used fireclay for this sink. The material is durable and can handle up to 500°F. It indicates you can put your hot pans inside the basin without worrying about potential damage. The center drain placement is convenient, and the sink doesn't feature an overflow function. You'll appreciate the modern design that fits contemporary decors.
Are you wondering how to install farmhouse kitchen sink with double-basin design? The process is almost similar to single-bowl units. Latoscana features a finish on all sides. Thanks to that, you can pick an under-mount or flush-mount design. It's also possible to set the model as a raised sink. Overall, this is a high-quality model. For a large basin, it delivers plenty of value for money.
Final Thoughts
The market offers an extensive product selection, so finding the best farmhouse kitchen sink should be a pleasure. Many users go with single-basin modern designs for contemporary decors. You can pick from different styles, materials, and features. Begin by considering your primary requirements and determining your budget. Based on that, it will be easy to identify the best sink and order it today!